Finnish Meteorological Institute Arctic Research Centre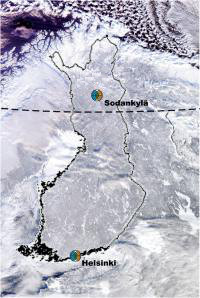 The Finnish Meteorological Institute (FMI) provides first-hand information about the atmospheric, terrestrial and marine environments.
Space-borne observations of the Earth play an important role, supporting research and operational activities within these core areas.
The Finnish Meteorological Institute's Arctic Research Centre hosts National Satellite Data Centre (NSDC) focusing on fast delivery remote sensing product generation. The National Satellite Data Centre, located north of the Arctic Circle in Sodankylä (67°22 N, 26°39 E) lies in an excellent location for receiving data from all polar orbiting spacecraft.
The expertise of operating delicate technical systems and scientific instrumentation in the harsh Nordic environment is paramount and has been signatory for FMI over 100 years. The Sodankylä site has an extensive in-situ and ground-based remote sensing instrumentation enabling reliable satellite calibration and validation activities as well as related scientificresearch and technological development.