Graphical User Interface
Finnish Data Hub System
Search Panel
The search panel provides a "full text search bar", "advanced search options" and a "map tool".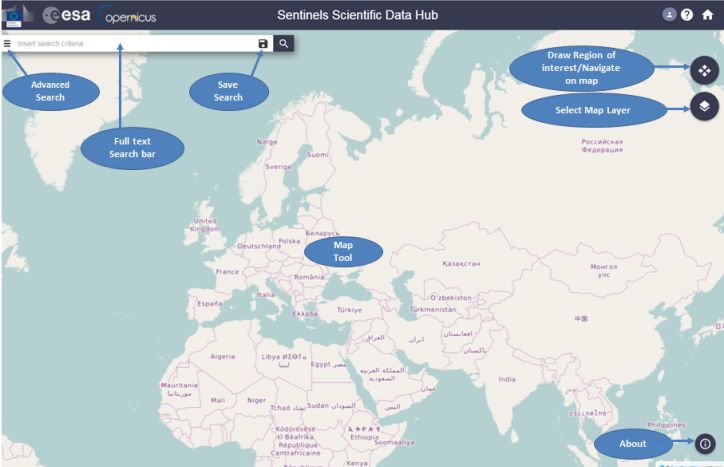 Map Tool
The map tool provides a geographical search feature. To define a region of interest click on the icon to set "draw region of interest" modality and then click and drag on the map for drawing a selection box. By clicking on the "Search" button the Data Hub will search for any product whose footprint intersects the selected region.
The map tool can be combined with the full text search and the advanced search to further restrict the results.
Search results
The Search results list provides all the products matching the submitted search query. Each result consists of:
64x64 thumbnail when available
product name
product URI
a Date corresponding to the Sensing Start date
the instrument name
the instrument imaging mode
the satellite name
the size of the product
The footprints of the products matching the search query are displayed on the map. Each footprint gets highlighted when hovering on the corresponding product in the search results list. NOTE: the map tool shows only the footprints of the products in the current search list page. To widen results you can change the page size (25, 50 or 100). Red footprints show Sentinel-1 products, green footprints show Sentinel-2 products.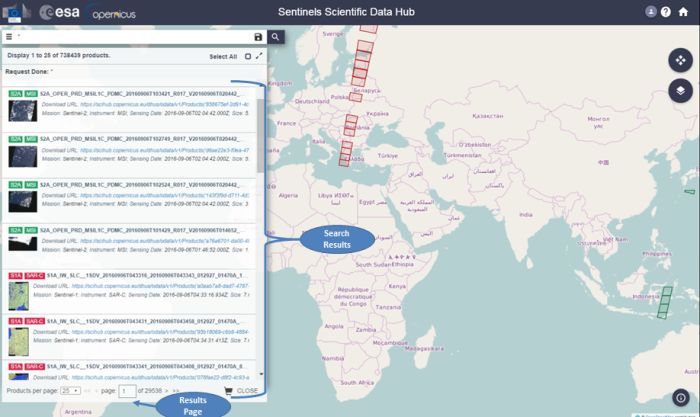 Click on "Show Product list" icon to go back to the product list.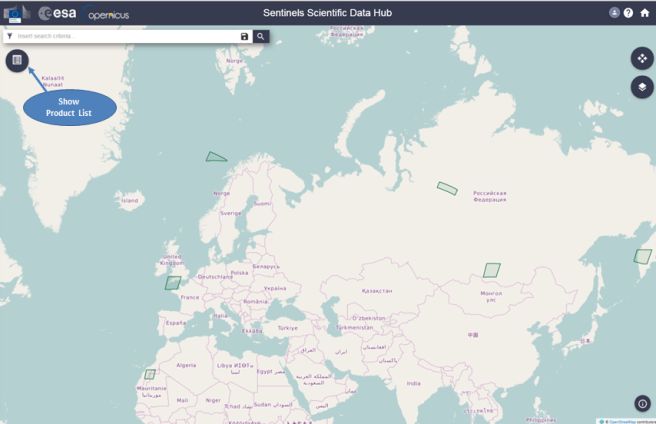 Profile Panel
Click on "User Profile" button to:
See the allowed functionalities: search and download products;
Cart: allow to manage the product added by the user;
Saved searches: allows to manage the searches saved by the user.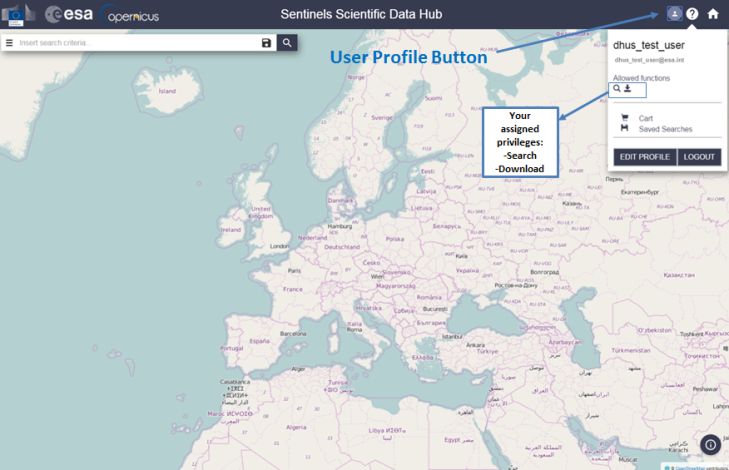 Click on "Edit Profile" button to access to profile panel. The profile panel contains all the account details.
Save Search
Click on "disk icon" to save the searches. A green message "User search save successful" in the bottom right-hand corner is displayed to confirm your operation.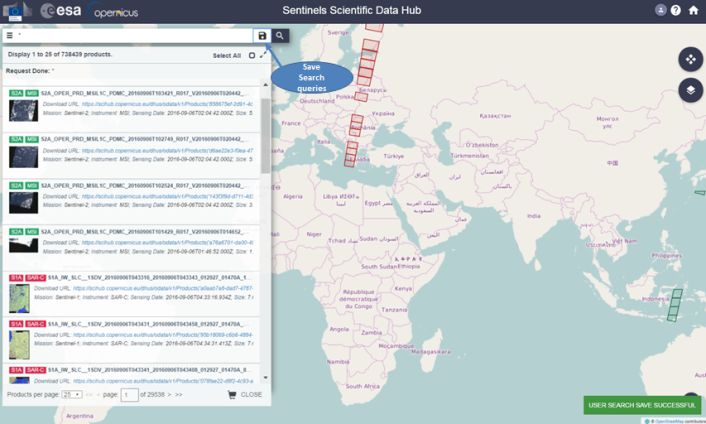 Products
There are the following options for each product displayed in the search list:
Select product
Zoom to product
View Product Details
Add product to Cart
Download Product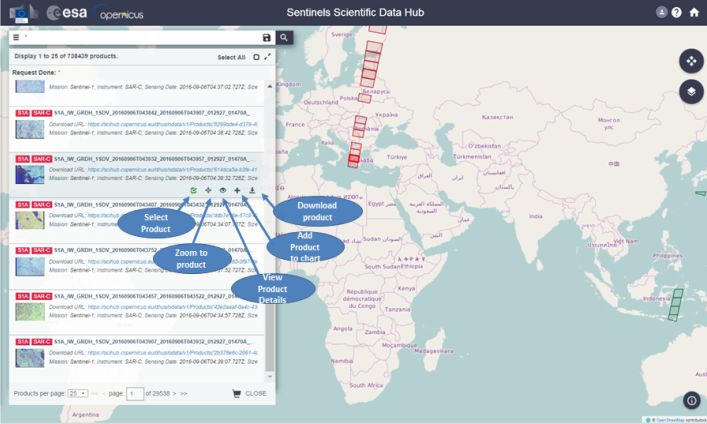 Click on "View Product Details icon" a window shows a product preview with:
Product name
Product URL
Footprint
Quicklook
Attributes(Summary, Product, Platform, Instrument)
Inspection(Annotation, Measurement,Preview, Support, Manifest.safe)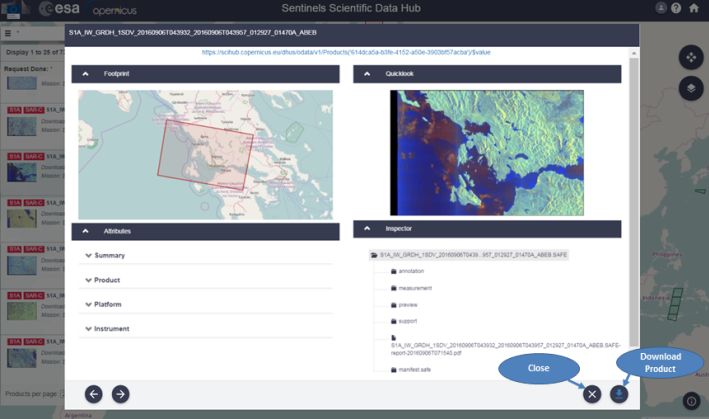 Cart Panel
The cart panel shows the products added to the cart. It's possible to download the single product or all the products in the cart as a bulk download or clear it. To return to map click on "Map icon" in the upper right-hand corner.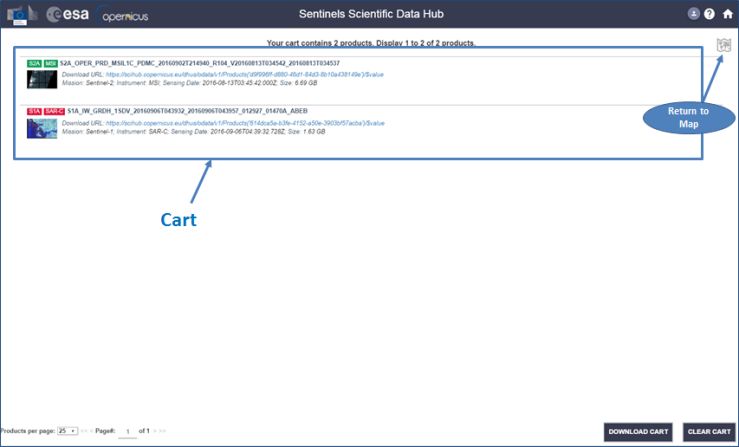 back to top
© ESA