Sentinel-5P / TROPOMI Surface Ultraviolet Radiation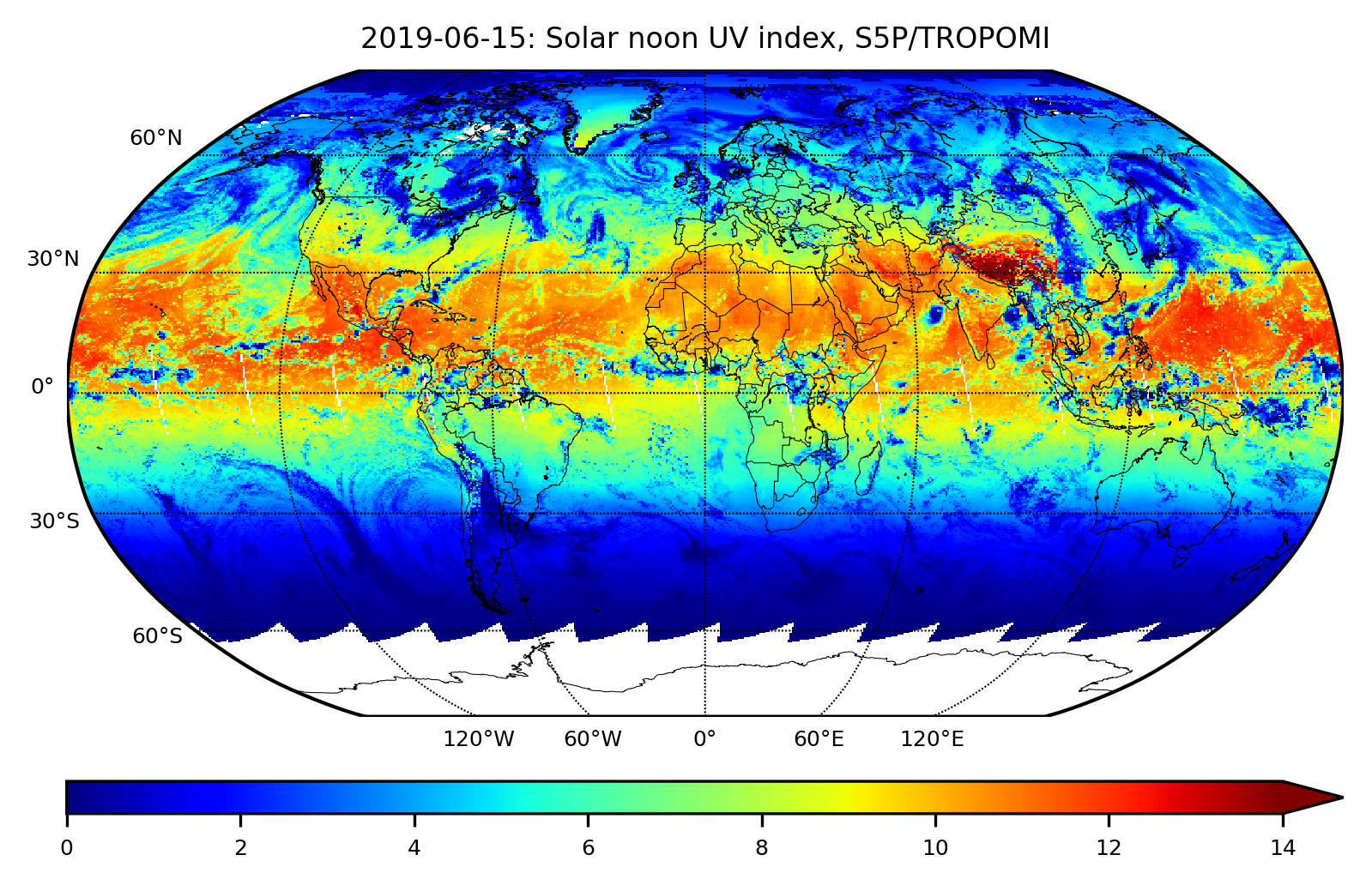 Product name: Sentinel-5P / TROPOMI Surface Ultraviolet Radiation (S5PUV)
Access to data and contact informaton:
Contact person: Jukka Kujanpää (firstname.lastname(at)fmi.fi)

More information on TROPOMI
Overview:
The Sentinel-5P / TROPOMI surface ultraviolet (UV) radiation product provides daily information on the prevailing UV radiation levels over the globe. It continues the satellite-derived UV record started by NASA TOMS instrument in 1978 and followed by the Dutch-Finnish Ozone Monitoring Instrument (OMI) onboard NASA's Aura satellite launched in 2004.
The product includes the following UV quantities: the UV irradiance at 305, 310, 324, and 380 nm; the erythemally weighted UV; and the vitamin-D weighted UV. Each of these are available as (i) daily dose or daily accumulated irradiance, (ii) overpass dose rate or irradiance, and (iii) solar noon dose rate or irradiance. In addition, all quantities are available corresponding to actual cloud conditions and as clear-sky values, which otherwise correspond to the same conditions but assume a cloud-free atmosphere.
More detailed information can be found in the research paper below and the documentation provided at the above ftp-site.
When applying the data for commercial, educational or scientific works and publications, please use the following citation:
Lindfors, A. V., Kujanpää, J., Kalakoski, N., Heikkilä, A., Lakkala, K., Mielonen, T., Sneep, M., Krotkov, N. A., Arola, A., and Tamminen, J.: The TROPOMI surface UV algorithm, Atmos. Meas. Tech., 11, 997-1008, https://doi.org/10.5194/amt-11-997-2018, 2018.